Applications of a CRM – Examples and Strategies
If you're a small or medium business that wants to increase your sales, you might be asking: what is a CRM and what would it do for us?
CRM is short for customer relationship management, and it refers to platforms and technologies that help you manage all of your customer (and future customer) interactions and communications.
A good CRM makes it easy for salespeople to track (and later locate!) records of their activities, share information internally, and keep in touch with their customers.
For managers and owners, CRM can help refine the overall sales process, gather important customer data, and analyze the sales trends and metrics that will lead to more informed investment, marketing, and operating decisions.
Before businesses get interested in CRM, they usually manage customer relations on spreadsheets, in email chains, and sometimes in a generic shared drive system.
This works for a while. But as the sales team grows, it becomes clear that each person on the team has a different method of interacting with customers, closing deals, and tracking communications. With information tracked across different documents and in different ways (or not tracked at all!) things start to get complicated.
As an owner or manager, it is common to wake up one morning and realize you don't really know whether your sales are improving, and if so, why.
With sales information scattered in many places, it's difficult to see whether your customers are being served consistently and with quality, and it's hard to make investment decisions.
If this is you, you're in the right place! Here are the top 5 applications of a CRM. We hope these points will offer some clarity on whether CRM is a good next step in your business growth.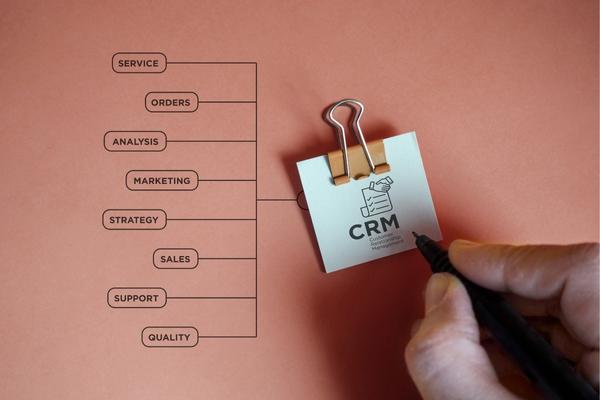 Application 1: Tracking Customers
A good CRM helps you understand your market and the needs of your customers. As you attract more customers, a CRM makes two things clear: who is interested in what you have to offer, and what is most important to them.
When it comes to winning more customers, a CRM helps you make smarter decisions than your competition and offer people what they truly want. And if customers leave or your sales stagnate, you can see common threads and change the process accordingly, to better meet their needs and retain them.
Application 2: Collecting Data for Marketing
When you're working in spreadsheets and scrolling through email chains, it's hard to get a big picture of all the important data about current and future customers. A CRM saves important data in extensive customer and contact lists.
This makes it easy and efficient to market directly to them based on particular criteria.
Application 3: Improving Interactions and Communications
When your list of customers is short, it's easy to keep up with everyone. However, as your business grows and that list becomes longer, it's more likely that sales opportunities and current customers may fall through the cracks.
A good CRM helps you maintain great customer relationships with all your clients and let them know what your products and services can do for them.
As you make updates and enhance your offerings over time, customer relationship management software allows you to keep them in the loop and include them in important news.
Application 4: Streamlining Internal Sales Processes
Because every salesperson operates differently, things can get inefficient quickly!
A good CRM helps you streamline your internal sales processes so that there is consistency and quality across your sales team.
This is the secret to how companies can promise, and consistently deliver, great customer service – having one place where all the customer information lives, and the processes to back it up.
A streamlined internal process also makes it easier to hire, train, and share customer information with new salespeople when there is a turnover in your sales team. With less time spent in CRM systems and more time interacting with customers and building their customer experience, your sales reps can thrive.
Application 5: Planning Your Operations.
A good customer relationship management tool will help you understand your current capacity and the demand customers are likely to have for your products and services.
This means you will see trends and be informed faster as things grow and change. A CRM helps you know when it's time to hire more people, alter internal processes, or invest resources into more production, before growing pains and panic sets in.
Implementing an operational CRM platform means choosing to break through the ceiling of your sales potential.
By accessing valuable insights that help you make better decisions, using customer insights to gain an upper hand on your competition, and developing processes that allow you to provide the same high quality of service even as your customer base grows, consider CRM solutions at the beginning of the next chapter for your business.
Are you ready to increase your sales?
We offer a FREE 30-day trial for our uniquely simple, customizable customer relationship management CRM designed for small and medium businesses just like yours. The best CRM software should not only be about sales management but also about the sales team actually enjoying the CRM processes.
Click below to create an account and get started!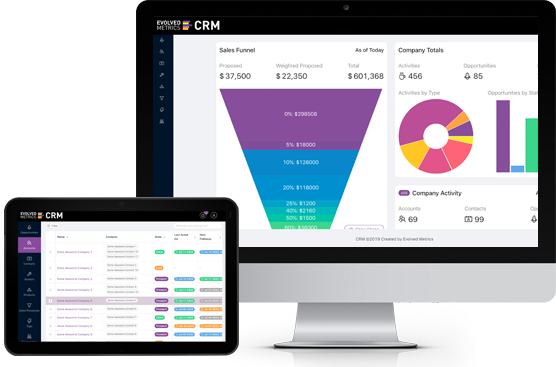 Frequently Asked Questions
> Does CRM or CRM Software require a large investment?
No. If you are a team focused on selling by relationships rather than email and social media, you get all the features that you need for CRM with Evolved Metrics – for one flat monthly price per user.
> Is CRM software or a CRM System a good idea for small businesses?
Absolutely. If you want to be able to grow your business and build customer relationships, you need to be able to track activities. CRM software will help you capture and keep contact information and share insights with new team members on how to sell and what customers want. CRM tools and CRM solutions help with each of these key part of the sales process.
> What do I need to deploy a CRM?
A web browser and an hour of time. The only other suggestion would be to get an idea of what your current customer engagement and sales processes are before you start. Maybe just take an hour to think it over and write down the steps you typically take when with customers. It'll help the setup process go a bit easier.
> What is the advantage of having a CRM?
CRM software has many advantages, and different software can have different features to better assist businesses of varying sizes or industries.

One of the top advantages of a CRM system is that it helps you to break down customer data by categories and different criteria. This, in turn, makes it easier to make focused lists that can help with marketing strategies and sales approaches. Sales and marketing teams can then use these sorts of lists to execute relationship-building activities that are designed to win opportunities and generate revenue.

Software like Evolved Metrics CRM will also help to analyze your sales process and lead maturation activities.

Some of the other benefits of a CRM are that it helps businesses understand their customers better and therefore better anticipate their needs. Being anticipatory leads to better customer retention for a company.

Since all of your information is stored in the CRM system, this means it is a valuable communication tool. It can tell you a client's name and contact information, but also their position within their own company, activities that they were involved with, and even their preferred method of communication.
As this is all stored in one place in the CRM program, it saves you and your team time in searching for all of this information. You can save all of your communications with a client in a CRM, too, so you can track the information and details you have discussed across time and space.

By tracking all of the information about your clients and by knowing their spending habits, it is easier for you to anticipate their needs and upsell or cross-sell to them.
In addition, you can be proactive and come up with great offers for your existing clientele by being aware of this information, too.
Applications of a CRM FAQ
How do businesses track customers?
Tracking customers can be important because it gives you a sense of who your customers are– such as their demographic and other pertinent information.
Who your customers are, and who is actually paying for your products or services, is different from your potential leads. It's important that you are able to run reports and track customers so that you know the difference.
This can help with your marketing and allow your outreach to be more successful and convert more leads to paying customers. 
Some of the things that you can track of your customers' is their downloads and opt-ins– such as freebies, purchase history, and email metrics like their open rate.
One of the ways that you can track customers is through cookies on your website, for instance. You can also run reporting through a CRM, which collects customer data and stores it in a central location for future reference.
Information such as email metrics can also be accessed through your email marketing provider, or through your CRM if you have everything integrated properly. 
How do you keep track of all customers?
Managing customers can be tough, especially if you are in an industry that has clients in multiple different stages of a process at the same time, or if you work with a large volume of customers.
Staying organized is crucial to your success as a business or as a business owner. Many businesses rely on recording or printing this data, and storing it in a filing cabinet.
However, that is the old fashioned way of doing things– these days, a CRM, or customer relationship management software, is a great way to store customer data and keep track of everything. 
A CRM allows you to track the client relationship from beginning to end, and can also help guide them through the sales funnel.
It can also integrate with existing systems that you are already using in your business, such as your email provider, so you are not learning to use an entirely new system. CRMs also allow you to store customer data in one central location, where you are able to access it from anywhere– you could access it from your phone or from your computer, for instance.
If you were still storing that data in a filing cabinet, you would have to go to the office and root through physical paperwork to access it!
Why is data collection important in marketing?
When it comes to your marketing, it is important that you collect data in relation to your customers, especially because it can help you to make your marketing campaign more successful. If you collect data, you can then take a look at this data and make informed decisions based on it!
Data collection can help you to meet your customer's expectations when it comes to things like your marketing approach, as well as personalized suggestions or communications.
Plus, if you have more information about the kinds of products or services that your customers are paying for or responding well to, you can then pitch them products and services that they actually need or want.
Some of the benefits of collecting customer data and personalizing your marketing approach in this way include streamlining your marketing strategy and shortening the sales funnel and sales cycle that your customers are going through.
It can also help improve your business' ROI and help you to expand and grow in your chosen industry. 
What are the five steps of customer interaction?
The first step of customer interaction is to be genuine and personalize the conversation. You should always make sure that you are putting forth the time and effort to treat the customer as an individual.
An easy way to do that is to refer to them by name when you are communicating. Not only is it polite, but it makes the customer feel as if they're being treated as a person.
The second step is to be accountable. Provide the best service possible, and do not try and pass the customer around from team member to team member when you are assisting them.
Of course, there are some times when this may be necessary, but try to keep that at a minimum. It can be frustrating for the customer and leave them feeling as if they are not valued.
The third step is to be empathetic. If you have a customer who is contacting you because they are dealing with an issue, they want someone who is kind and understanding to assist them.
Acknowledging their issue and letting them know that you understand their concerns is an easy way to get this across.
The fourth step is to be innovative. You should work on assisting the customer with their issue and on providing solutions to resolve the problem.
Sometimes, this may require some problem-solving skills and ingenuity. Don't tell the customer what you can't do, but focus on how you can help them- this will leave them with a much more positive experience.
The last and fifth step is to be trustworthy. Put your money where your mouth is, so to speak, and do not make promises you will not be able to keep.
While it may make the customer happy at first, when you are not able to follow through, it will put a bad taste in their mouth and leave them upset.
What does it mean to streamline the sales process?
Streamlining the sales process is when you are able to attract the right leads to your sales funnel and can then convert them into paying customers more quickly and easily. This is one of the main CRM applications, and most CRM solutions will help you achieve this. Customer satisfaction is the end goal, and managing customer inquiries is part of the journey to get there.
Your business's customer experience needs to be something they enjoy, remember and hopefully share on social media. A proper CRM application can be the difference between success in this and failure.
Part of the streamlining process is to know your end goal and then use the analytics you are given from the CRM tool to focus on activities that are winning instead of activities that are now.
You can do this by personalizing your marketing strategy and approach, based on the metrics and reporting you run on existing customer data. 
An effective sales plan is crucial to streamlining the sales process for your company. You will need to be sure that you understand the market and the customer in order to put together a successful sales process.