DIGITAL TRANSFORMATION PROJECTS FOR SMALL & MEDIUM BUSINESSES. DONE RIGHT.
As your business evolves and grows, digital transformation allows you to improve and automate your processes, practices, and workflows.
"Before Evolved Metrics, we captured project updates and created reports in stationary documents like Word, PDFs, various checklists, and templates. We didn't have the ability to govern that number of documents, and wanted to work smarter, not harder. EM helped us digitize this work inside a system that runs smoothly and efficiently. It has cut down on the number of extra communications that need to happen to receive updates on projects in the field."
Noelle Cameron, Manager – Project Management Office
1. We learn your processes.
We start by cataloging and analyzing your processes without regard to technology. By understanding what needs to be done, what changes over time, who needs to be told of changes, and what needs to be tracked and recorded in your business, we get a clear picture of how to make the biggest impact.
2. We review your technologies.
Next, we look at what technologies your business currently uses and build out RPA (robotic process automation), analytics, reporting, and processes wherever possible to ensure data retains its value to be used for analytic and improvement purposes.
3. Our team of PowerApps, BI, and automation experts go to work.
We work primarily in the Microsoft stack, which is available at a relatively low cost for any O365 subscribed company. If you are a Microsoft 365-based business, your license costs are likely to be very low. This also allows us to build projects on a flat-fee basis wherever possible, which means no surprise fees for you.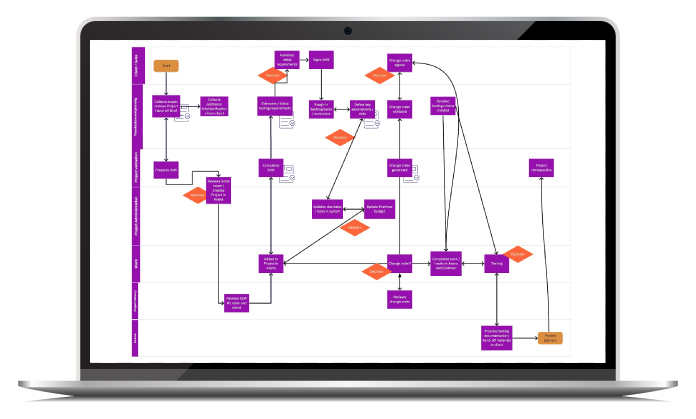 ACHIEVE MORE WITH LESS
Save time, money, and manpower on your processes. Digital transformation means fewer email chains, easy methods of sharing and updating information, high-level reporting and data-gathering, and clear lines of communication.
DEVELOP SMOOTHER PROCESSES
We have PowerApps, BI & and automation experts to transform your current processes into digital ones. We help uncover the gaps and bottlenecks that bog you down, determine how to better retain and use your data, and better archive your documents.  Digital transformation means smoother processes.
ENJOY STRESS-FREE TEAMWORK
Our goal is to create systems and processes that ensure your data can be trended, compared, reported, and analyzed holistically rather than just being signed off and disappearing, never to be useful again. This allows your teams to work in sync without miscommunication or lack of information.
We've built our consulting services on two principles: creating solutions that address your unique needs, and offering clear and concise project plans that you can start working on right away.
This is why we've developed an insightful, complimentary, no-obligation assessment and consultation to get your wheels turning.
We will send you a quick questionnaire and spend an hour with you to talk about your business. From this meeting, you'll receive an actionable business process, insightful work culture report, and a metrics report at no cost! Afterwards, if you choose to work with us, great. If not, you'll have a report on how you can make your business better.
We can't wait to meet you. Click below to book your slot!
Digital Transformation FAQ