CRM for Electrical Contractors
Contracting in the building and construction industries relies heavily on relationships, so it is important to not only do a great job on the project that you are hired to complete but also foster strong, healthy relationships with your clients. Something that can help with this is a CRM system– this software is used in many different industries, including the construction industry.
To learn more about a CRM and how it can assist you as an electrical contractor, look no further than below!
What Is a CRM?
CRM stands for customer relationship management. It is a cloud based software program that has many features that are designed to improve and streamline the customer experience, as well as make things easier for you in your day-to-day. Because a CRM is a could based platform you can use this tool while on the job site and can act as a field service management tool.
CRM software allows you to keep all of your customer and project data in one central location, rather than storing it in different word documents or in file cabinets– this makes it easy to pull up all of this information with the click of a button. Many industries can benefit from a CRM, and for contractors and electrical companies, it helps to save you time and energy that could be better focused on doing the hands-on jobs that you are hired for– rather than back-end tasks.
Benefits of CRM for Electrical Contractors
As mentioned above, a CRM system can be very helpful to electrical contractors and can help them to stay better organized– which then has a positive effect on customer relationships. It has other benefits, too, such as automating tedious tasks and guiding potential clients through the sales process and sales funnel.
Read on for a greater discussion on the benefits of a CRM system for electrical contractors.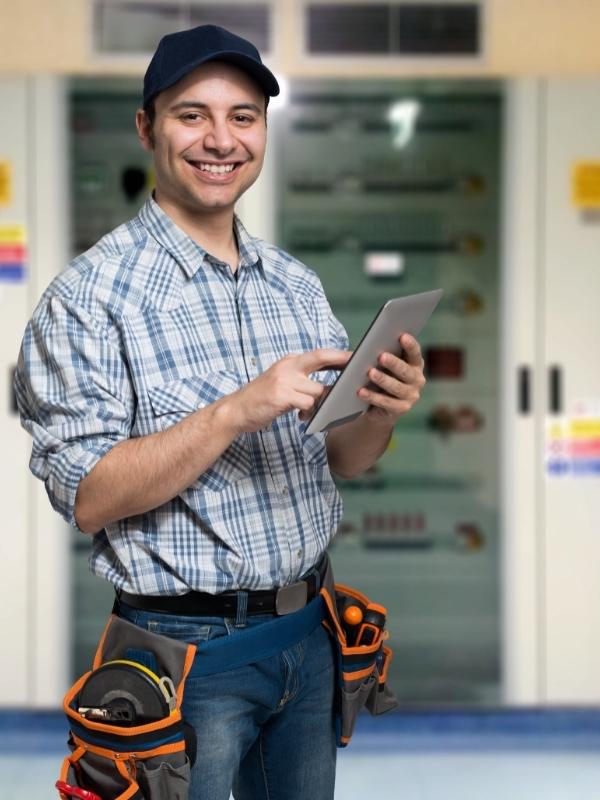 Better Customer Service
You now know that CRM is short for customer relationship management. It is a powerful tool when it comes to providing customer service, and helps you to provide much better customer service than you would be able to provide on your own.
CRM keeps all of your information in one place, so it is easy to access any information if you have a dispute or an issue with one of your clients. You can quickly resolve the problem and avoid frustration and irritation for your customer.
Automation can also help you to provide better customer service by getting certain information off to your clients immediately so that they do not need to wait for quotes, contracts, or more. This could help you get the sale over someone else, too, if the potential client is shopping around with a few different contractors.
Increase Sales
Many CRMs are designed specifically to assist with sales, and they include special features that can greatly benefit your sales approach and lead to more customers or bigger sales with your existing clients! These features can be helpful, too, because many of them are automated or will alert you to certain things– such as when you receive a response.
This allows you to do other things in your business at the same time without your sales suffering. CRM software also offer analytics, so you can take a look at what is working and what is not in your sales approach. You can use them to determine your top customers, too, so that you can provide an optimal experience and the right service levels to achieve a sale.
Greater Efficiency
When it comes to the benefits of a CRM system, increased efficiency is one of the biggest perks. This efficiency can be applied to a number of parts of your business, such as communication and sales.
Since your CRM collects information and stores it in a central location, it makes it easy to access this information with the click of a button, rather than hunting through documents or file cabinets.
Automation is a feature of most CRMs, and this allows you to automate certain tasks in order to save yourself the time it would take to do them manually– some examples of this could include administrative tasks like sending contracts.
Fosters Collaboration
If you are a contractor and work entirely on your own, you are likely handling all parts of the process, from the sales process to the actual electrical work you are being hired to do. However, if you have even one other person working with you– such as an office worker who handles your sales communications– a CRM can help to increase collaboration between you.
The CRM software can help you to pass information back and forth since it is all contained in one central location. It, therefore, allows you to work in sync and handle the customer life cycle– which can be complex– together.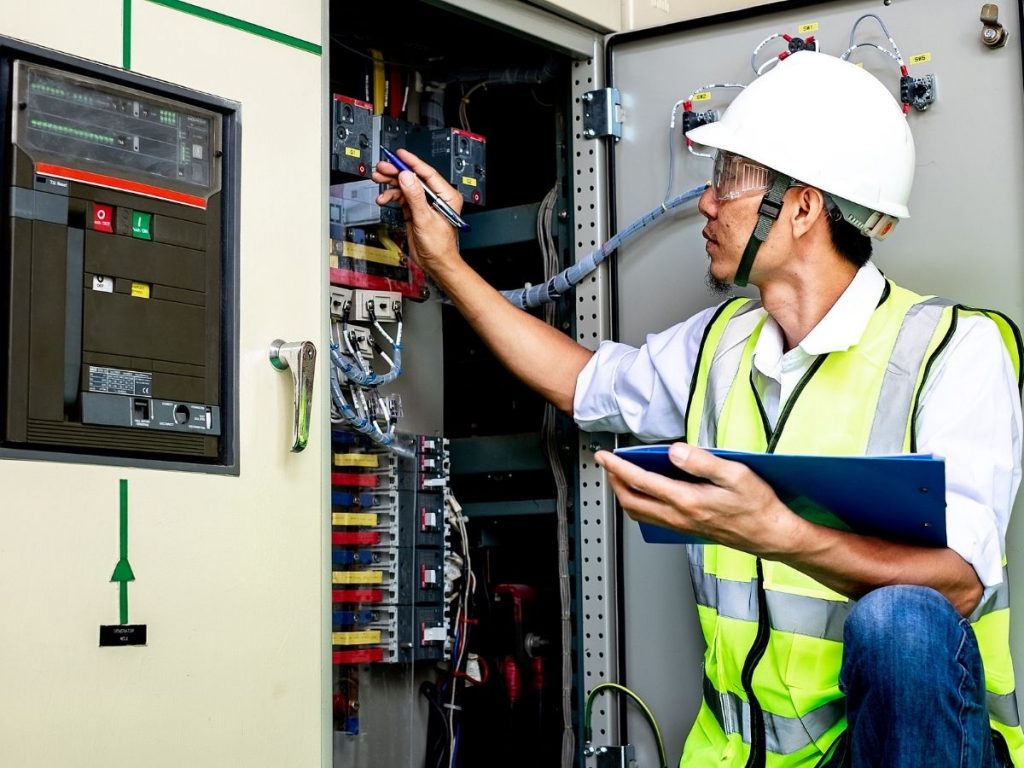 When Choosing a CRM
Not all CRM systems are the same. This is important to remember when you are choosing one to implement into your contracting business. For instance, a CRM that works for a larger firm may be more complicated than necessary for your business. Luckily, there are plenty of options for CRMs that can fit your needs!
Features and Functionality
You will want to first look at the features and functionality of a CRM before you even consider any of its other characteristics. If your CRM is not able to function the way that you need it to, these other characteristics will not matter! As a contractor, rather than a larger firm, you will likely only need one of the simpler CRM systems.
Take stock of the needs you have in your business and then look for a CRM that can fill those needs. Look for a CRM that is scalable, too, so that you can upgrade it as your business grows and your needs increase.
Integration with Other Systems
Another important factor to look at is whether or not a CRM system integrates with the other applications that you are already using in your day-to-day. This will help the CRM system streamline your processes as intended. Not only will you want to ensure that it will integrate with Office or Google G Suite, but you will also want to ensure that it can integrate with software such as accounting software or marketing solutions. The ease of transferring existing data into this CRM and whether or not you can export data from it, later on, will also be important.
Request a Demo
Last but not least, try to request a demo or a free trial of the CRM system that you are looking at. In fact, you should do this for more than one CRM, as it will allow you to compare their strengths and weaknesses and better narrow down your choice.
You should always do a demo of the software before you decide to buy so that you can see how it works in real-time. This is also something that is commonly offered by CRM companies, so the request should not come as a surprise. You can then evaluate what you like and do not like about the system, rather than finding out that the system does not work for you after you purchase and try to implement it.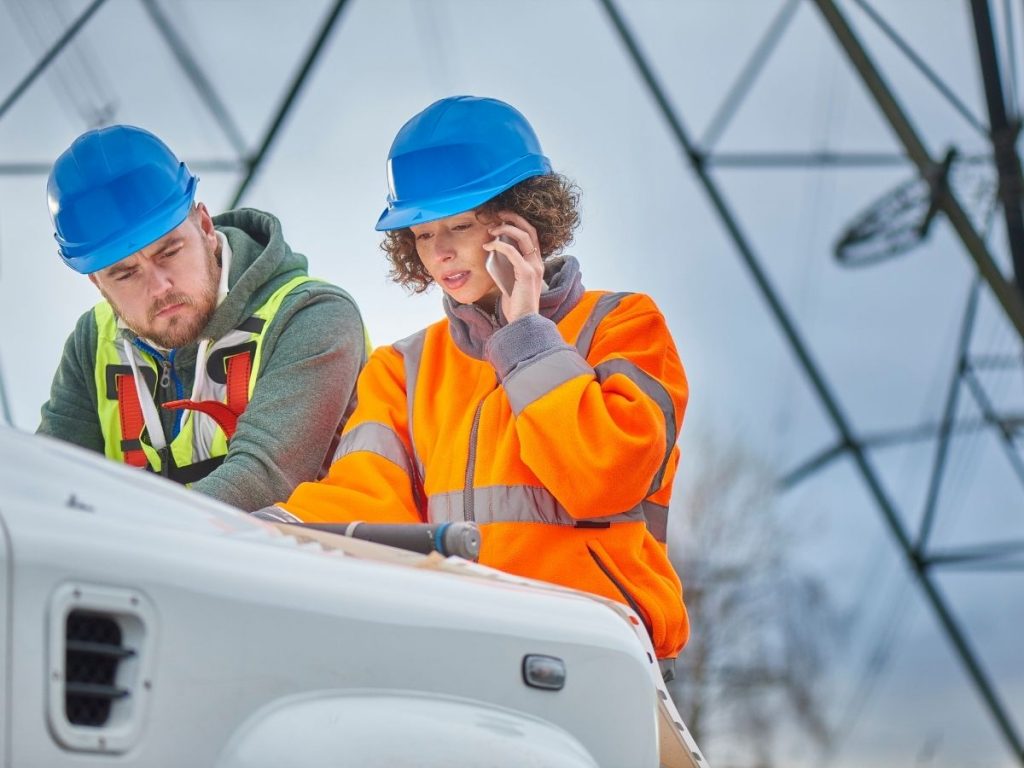 Evolved Metrics CRM
Looking for electrical contractor software that will work for you? Evolved Metrics is a fantastic CRM software for electrical contractors.
Before making the choice to install Evolved Metrics as your CRM, you can even schedule an hour long workshop– for free!— to learn about how Evolved Metrics can support you and your office and field teams. Afterwards, you will receive a complimentary business process and culture assessment report!
Evolved Metrics CRM also offers a 1 month free CRM trial, so you can see if this is the right project management tool for you. If you are commercial electrical service contractors or a small electrical contracting business, Evolved Metrics can be tailored for you.
Evolved Metrics uses the science of human behaviour to achieve results in your business. Even better, it is easy to use and to set up– this particular CRM is designed to be able to be set up in an hour or less.
This CRM (electrical contractor software) option has many different features, including actionable analytics and business intelligence, among others. This can help you to get a bird's eye view of your electrical business and take steps to improve it in order to grow your business and improve your bottom line!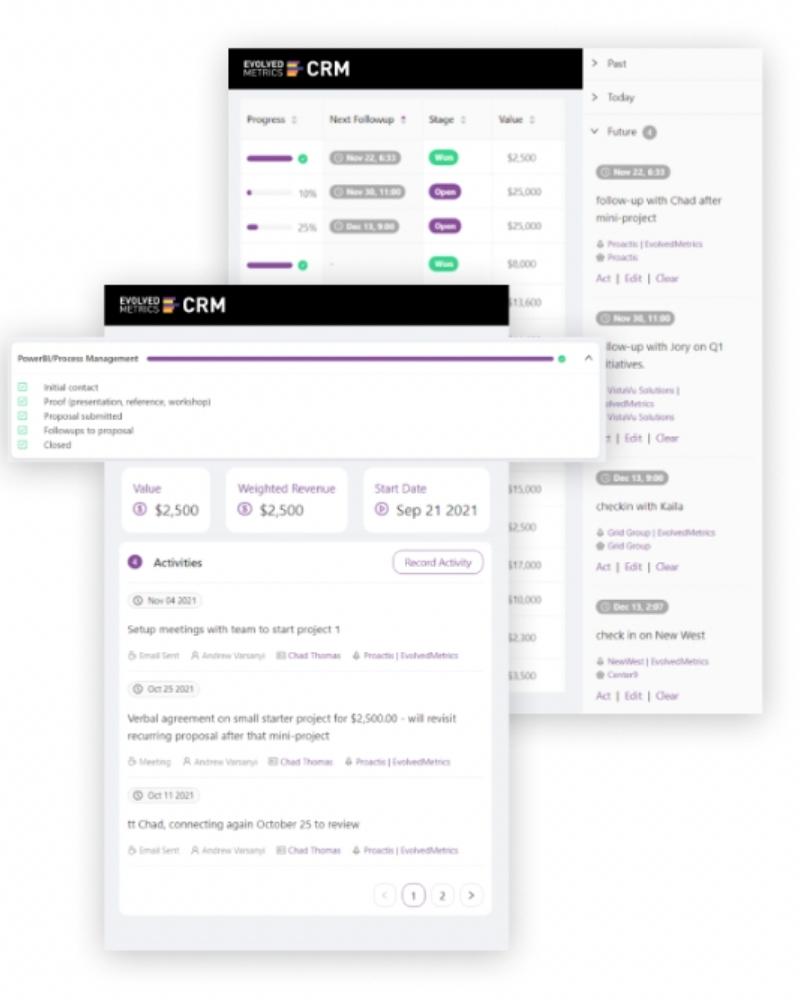 Automation
Email and calendar integration
Activity tracking and follow ups
Infinite upgrades forever
Tailored for you
Dashboard and reporting
Fully customizable
No hidden costs or extra charges
Frequently Asked Questions
How do electrical contractors get clients?
Electrical contractors can get clients by advertising their business and making potential customers aware of the services that they offer. They should create a website that their potential clients can be directed to, and can advertise through a variety of avenues such as social media or email marketing. They should also regularly create content to post on their site. 
Electrical contractor software can really help in this process in a number of different ways. There is electrical contractor software like a CRM which we will discuss next, and project management software which will keep you on track.
Let's dive a little deeper into getting new customers for your electrical business
Attracting customers for your business requires a mix of traditional marketing tactics, customer service, and leveraging modern technology such as CRM (Customer Relationship Management) systems and electrical contractor software.
The first step in attracting customers is to provide excellent service that results in high customer satisfaction. This begins with effectively managing your projects, making sure they are completed on time, within budget, and to a high standard of quality. To facilitate this, you can use project management solutions, some of which are integrated into electrical contractor software. Such software often includes tools to track progress, assign tasks, manage resources, and identify potential issues before they become problems.
Next, it's crucial to maintain regular customer communications. Customers should always know the status of their project and have any questions or concerns addressed promptly. This level of communication can be managed efficiently through a CRM system, which can store all customer interactions in one place, ensuring no communication gets lost. Automated emails or messages can also be set up for regular updates or reminders, enhancing the customer experience.
CRM systems are also effective for customer management. They can help you track leads, convert them into customers, and nurture existing customer relationships. The system can remind you when to follow up with potential clients, or when existing clients might need your services again. It can also help you segment your customers, allowing for targeted marketing and promotional efforts.
Encouraging online payments is another way to improve customer satisfaction. In our digital age, customers appreciate the convenience and security of paying online. Therefore, make sure you offer reliable and easy-to-use online payment options. You can use the electrical contractor software that has integrated payment solutions to make this process seamless.
Finally, don't forget to ask for referrals from satisfied customers. Word-of-mouth referrals can be powerful in attracting new business. Make it easy for your customers to refer you by providing exceptional service and asking for their help in spreading the word about your business.
In conclusion, using tools like CRM and electrical contractor software, coupled with excellent project management, regular customer communications, and encouraging online payments, can help you attract and retain customers for your business. By focusing on customer satisfaction and effectively managing your relationships with clients, you'll be well-positioned to grow your business.
What does CRM stand for?
CRM is a term that is short for customer relationship management software. It can help to move leads through the sales funnel, as well as help you with data entry and staying organized and on top of things, especially if you are a contractor and spend a lot of time out on the job– rather than at a desk. Many CRMs also connect to phone apps, so that you can access information on the go when you do not have access to a computer.
What is CRM mainly used for?
Customer Relationship Management (CRM) is a software that companies use to manage interactions with customers and potential customers. By using a CRM, it can help organizations streamline processes, build customer relationships, increase sales, improve customer service, save time and increase profitability.
What is a contractor CRM?
A CRM for contractors is a customer relationship management software that helps contractors guide their sales leads through the sales process. It also helps automate tasks to save time and store client information so that the contractor can improve the customer experience. Usually, these particular CRMs are designed specifically for builders and contractors, so they include tools that will be helpful for them and for their industry. 
What is Field Service Management Software?
Field Service Management (FSM) software is a system designed to coordinate and streamline tasks and operations in businesses that provide services directly at client locations, such as installation, repair, or maintenance work. By employing such software, businesses can manage their field operations in a more organized, efficient, and productive manner.
At its core, field service management software enables businesses to automate the scheduling and dispatching of service technicians, track the progress of jobs in real time, manage customer information, and maintain a history of service requests. It can also provide technicians with easy access to necessary information while in the field, such as customer service history, manuals, or part inventory data.
A key benefit of field service management software is its ability to optimize routes for field technicians. This ensures the fastest and most efficient routes are used, saving time, reducing fuel costs, and allowing for more service calls within a day.
FSM software often includes functionalities for managing inventory, invoicing, taking payments, and integrating with other systems such as CRM or accounting software. This results in a seamless flow of data across different areas of the business, reducing manual entry and increasing accuracy.
Moreover, field service management software usually includes robust reporting and analytics capabilities. These tools can provide valuable insights into business operations, such as technician performance, common service issues, customer satisfaction, and more. This data can be used to make informed business decisions and drive continual improvement in service delivery.
In conclusion, field service management software, much like electrical contractor software, iss an invaluable tool for businesses that rely on field operations. By automating and streamlining processes, it helps to increase efficiency, improve customer service, and drive business growth.