A CRM system can be a very helpful tool when you are running a business, and there are plenty of CRM options out there for businesses of all sizes, from contractors to large scale companies! If you are a plumber, a CRM can help you to spend more time out on job sites while still keeping track of all the back end tasks and staying organized. It is like having another team member, even if you work on your own.
Take a look at the following to learn more about CRM and how a CRM system can benefit you in your plumbing business.
What Is a CRM?
First things first, it is important for you to understand what a CRM is before you decide whether or not you need one in your day to day business operations. CRM stands for customer relationship management. It works to manage your relationships with your clients, as the name suggests, and keep them satisfied so that they become repeat customers– and recommend you to their friends and family, too!
This management software is able to help you by automating certain tasks, keeping all of your data in one easy to access spot, and providing valuable reporting and analytics.
Benefits of CRM For Plumbers
A CRM system can be a fantastic tool for many service business professions, even those that do not necessarily take place in an office– such as the plumbing business! Plumbers can benefit in several ways from implementing a CRM in their business.
Below, we will go into more detail on how exactly it can be beneficial to have a plumbing service software and how it can be a business productivity tool.
Data Entry
Instead of storing your client data in a storage cabinet, you can collect and store your data in your CRM system instead. This makes it easier for you to stay organized and save time when you are looking for information on your existing customers, as you can get that information at the push of a button, rather than digging through papers from a file cabinet.
The CRM also collects this data automatically from your communications and the systems you integrate it with– this can help you to save time that could be better spent on other tasks, which require more of a human touch. 
By tracking customer interactions and service history, a CRM system provides valuable insights into customer behaviour, preferences, and patterns. These insights can help you develop targeted marketing campaigns, identify cross-selling or upselling opportunities, and tailor your services to meet specific customer needs. This data-driven approach enables you to improve sales strategies, increase customer engagement, and drive business growth.
Automation
Automation is one of the key benefits of a CRM system. It can help you to automate certain tasks so that you can get responses off to your clients faster, even when you are not sitting at your computer– which helps to keep them happy and feeling as if they are taken care of!
Some of the tasks that could be automated include some of the day to day job management tasks like sending general information, scheduling appointments or service calls, or sending over contracts for signatures.
Streamline Sales Process
Some of the features of a CRM system help to streamline the sales process– which is crucial to the success of your business. After all, without customers, your business does not have a chance of success. When you allow your CRM to handle time consuming and mindless tasks, it helps you to save yourself more time that can be spent on selling your services to your customers instead.
The analytics and reporting tools that a CRM includes can also help your plumbing business figure out what sorts of sales approaches work, so that you do not waste time on efforts that are proven ineffective. 
A CRM allows you to manage leads effectively by capturing and organizing customer information, inquiries, and service requests. It helps track leads from initial contact through to conversion, ensuring that no potential customers fall through the cracks. This streamlines lead management processes and increases the chances of converting leads into paying customers.
Mobile App
Your CRM is able to collect and store data from different systems, as we discussed above. Of course, this information is useless to you unless you are able to access it. Luckily, most CRM systems these days have mobile apps as well that can integrate with the application on your computer. This makes it easy for you to access your data while you are on the job, or traveling between jobs, too.
Plumbing software is also great for inventory management. How nice would it be to have access to your inventory by checking your mobile app when you are out on a job site.
That can be helpful if, for instance, you are asked a question and need to go back to your notes to answer the client. It also allows you to record information from the job in your client's file– instead of having to wait until you are back at your computer, which can affect your accuracy in recording. This ensures that everyone involved in job management has real-time visibility and can easily track job statuses.
Streamlined Scheduling and Dispatching
A CRM will allow you to maintain field service management, you can efficiently manage your plumbing team's schedules and dispatch jobs. The system allows you to assign jobs to specific plumbers based on their skills, availability, and proximity to the service location. This helps optimize resource allocation, reduce travel time, and improve overall operational efficiency. Here are other key area's that help with job management.
Efficient Scheduling: A CRM allows plumbers to schedule appointments and allocate resources effectively. The system provides a calendar view where plumbers can see their existing appointments, available time slots, and upcoming jobs. By considering factors like proximity, skill sets, and availability, plumbers can schedule appointments in a way that optimizes travel time, minimizes downtime, and ensures timely service delivery.
Job Assignment and Dispatching: With a CRM, managers can assign jobs to specific plumbers based on their skills, availability, and location. The system facilitates seamless communication between the dispatcher and plumbers, allowing for efficient dispatching of jobs. Plumbers receive job details and updates directly in the CRM, ensuring they have all the necessary information to complete the tasks efficiently.
Real-Time Updates and Communication: A CRM system enables real-time updates and communication between plumbers and the office team. Plumbers can update job statuses, add notes, and upload images or documents directly from their mobile devices using CRM mobile apps. This ensures that the office team stays informed and can provide support or address any issues promptly.
Job Reminders and Notifications: A CRM can send automated reminders and notifications to plumbers and customers about upcoming appointments or job changes. Plumbers receive alerts on their mobile devices, ensuring they are well-prepared and on schedule. Customers can receive reminders about their appointments, reducing the likelihood of missed appointments and improving customer satisfaction.
Job History and Documentation: A CRM system maintains a record of job history, including past services, customer preferences, and any specific requirements. Plumbers can access this information, enabling them to provide personalized service and ensure consistency in their approach. Additionally, CRM systems often allow plumbers to upload photos, service notes, and other job-related documentation, facilitating easy reference and knowledge sharing.
Enhanced Customer Service
A CRM system enables you to maintain a comprehensive view of each customer's history, including previous service calls, preferences, and any ongoing issues. This information empowers your team to provide personalized and efficient customer service. Plumbers can access customer details, track job statuses, schedule appointments, and deliver prompt and effective solutions, leading to higher customer satisfaction and loyalty.
A CRM can help you stay connected with your customers by providing service reminders and proactive maintenance alerts. You can set up automated notifications to remind customers about routine plumbing maintenance tasks, such as inspections or system check-ups. This helps build stronger customer relationships and positions your business as a reliable service provider.
In summary, a CRM system offers several benefits for a plumbing contractors and plumbing companies, including efficient lead management, enhanced customer service, streamlined scheduling, improved communication, proactive maintenance reminders, field service management, and sales and marketing insights. Implementing a CRM can optimize your plumbing business operations, increase customer satisfaction, and contribute to long-term success.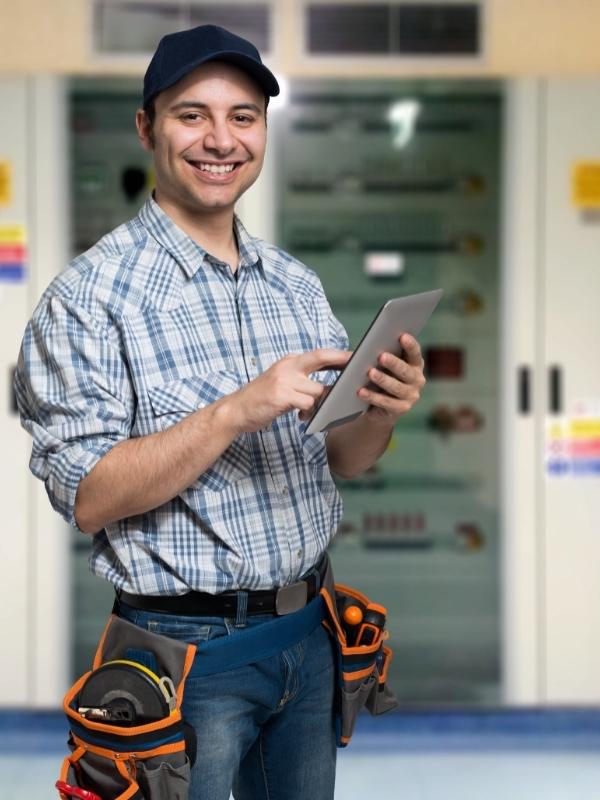 Evolved Metrics
There are plenty of CRM options out there, and many are unnecessarily complex for a contractor or one person business. If you are a plumber, Evolved Metrics can be a great CRM option for you, because it was designed with small service businesses in mind and will be able to better cater to your needs. It is able to integrate with any existing systems that you use, such as your email inboxes, and it is quick and easy to install. In fact, it can be installed in just an hour!
Evolved Metrics also offers a free demo so that you can try before you buy, making sure that this is the right field service management software for your plumbing company.
Everything you need to do in 3-clicks or less
Whether you are ready to transition your sales accounts and processes from spreadsheets, or you've tried other CRMs that weren't a good fit, we offer a simple, intuitive interface, meaningful metrics, and the ability for each of your users to customize their workspace to fit their priorities.
Evolved Metrics CRM is designed to help you spend more time growing your relationships and winning more opportunities.
Frequently Asked Questions
What are the benefits of using a CRM system?
There are many benefits when it comes to implementing a CRM management software for your business. Of course, the number one benefit of a CRM is how it cares for your relationships with customers– as the name makes clear.
Some of its other benefits of having a plumbing crm software include helping to guide new sales leads through your sales funnel, so that you can continue to get new clients, and storing your customer information in the cloud, so that it can be accessed from anywhere, customer management and to help manage jobs. These days, most CRMs have a mobile app so that you can access this data on the job as well– you no longer have to be at your computer or in the office! 
What is a CRM for plumbing contractors?
A CRM can be used in many different industries and professions, including by plumbing services who do not have a large team of people or any type of contractors who require field service software. It is a software system whose acronym stands for customer relationship management. It can help to keep a plumbers paperwork and backend tasks organized, which can be tough when you are not often in the office since you are traveling from job to job. It has many different features, such as data entry and automation, which can be helpful.