CRM For Private Equity
If you are working at or running a private equity firm, a CRM system can be a valuable tool that helps you to do your job better. It focuses on improving your relationships with your client base in a number of ways, as well as helping to bring in new clients by guiding them through your sales funnel.
If your customers are happy, they will continue to work with you and recommend you to their friends, so keeping clients happy is the key to success!
Read on to learn more about CRM and how this program can help you to thrive in the private equity sector.
Also Read
What Is a CRM?
CRM is an acronym for customer relationship management. It functions primarily to manage and maintain the client relationships of a business or an individual, such as a contractor.
It often uses data analysis in order to study large chunks of information, and can then make suggestions on how and where to focus various efforts– such as marketing efforts, for instance. It can also help in the day-to-day of running your business, not just in your strategic efforts.
For example, it can help you to get answers to your clients quicker when communicating about various things.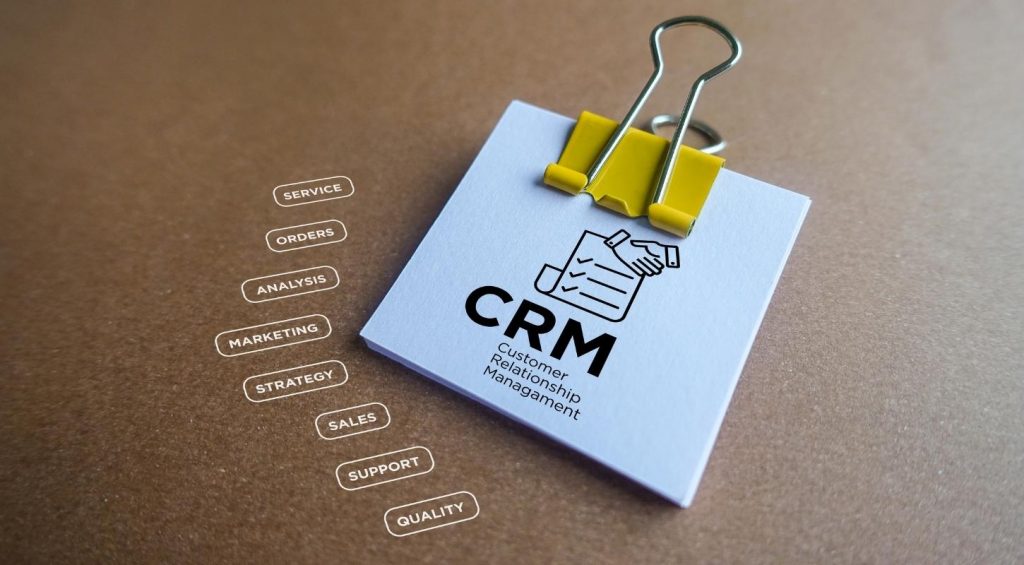 Benefits of CRM For Private Equity
There are several different benefits of a CRM that can help you no matter what industry you are in, and there are others that benefit private equity firms more specifically. This includes email and workflow integration, among other CRM features.
Below, we go over some of the benefits of this kind of system for private equity.
Email Integration
Many CRMs offer email integration, which is when the system integrates with your team's email inboxes. These days, it is a fairly common feature in all CRM systems!
This can be very helpful because it can help you to get a holistic view of all communications, as well as the clients, team members, and others that you must keep track of in order to succeed. Email integration also makes it easier to keep your records up to date without having to do it all manually.
Workflow Integration
Workflow integration is another great integration feature of a CRM system. Instead of disrupting your work and having to open up new programs to log data and information, your CRM will integrate so that it does this for you.
It cuts down on the need for many different programs, and also improves your efficiency by not having you interrupt yourself during the workday with these sorts of tasks. CRMs often have mobile applications as well, so that you are able to access data no matter where you are, which can help to improve your work and your productivity.
System Integration
Sometimes, you have certain systems that you already use in your day to day and do not want to change, even if you are also implementing a CRM. Luckily, you do not have to! CRM software is able to integrate smoothly with many systems, such as email, which we discussed above, and sometimes even other CRMs!
This can be helpful because it decreases the learning curve for other platforms, and it can also keep all of the data from all different systems in one place in the CRM– so you do not have to go trawling through emails or other systems when looking for a specific piece of information.
Data Enrichment
Of course, when you are working in private equity, you rely very heavily on data. The more data you have, the more information you are able to analyze when trying to make smart investment decisions! A CRM can help with this by streamlining data entry and certain integrations.
Your CRM will make information available at the click of a button– for example, a company's financials, size, and transaction history. The CRM logs and tracks all of this information for you in order to eliminate mistakes and give you back valuable time in your workday. This type of crm software solutions act as a portfolio management tool and help with all areas business development and pipeline management.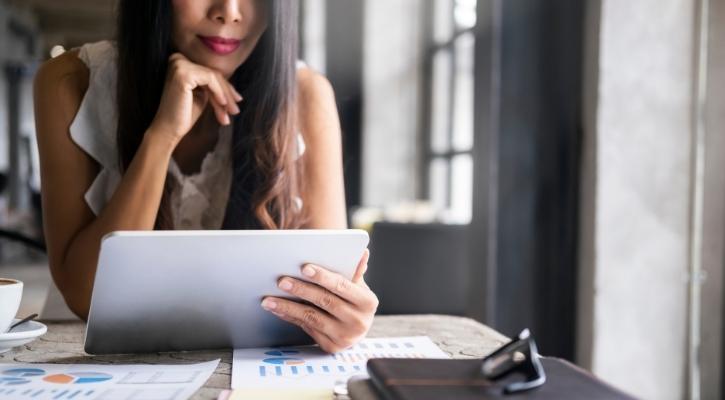 Evolved Metrics
For private equity firms that are looking for a CRM option to implement with their day-to-day business operations, Evolved Metrics can be a great choice.
It was designed specifically for small to mid-size businesses so that it has none of the features that could be overwhelming and is only considered necessary for very large companies. It can also be personalized to your needs and installed quickly and easily so that you can return to your daily tasks as fast as possible! Like many CRMs, this one can integrate with the systems that you already use. It was designed to be easy to use and understand.
Evolved Metrics offers a trial and free demo so that you can fully educate yourself on the CRM and its offerings before making a purchase. This way, you can be sure that it is able to fit your company's needs!
Everything you need to do in 3-clicks or less
Whether you are ready to transition your sales accounts and processes from spreadsheets, or you've tried other CRMs that weren't a good fit, we offer a simple, intuitive interface, meaningful metrics, and the ability for each of your users to customize their workspace to fit their priorities.
Evolved Metrics CRM is designed to help you spend more time growing your relationships and winning more opportunities.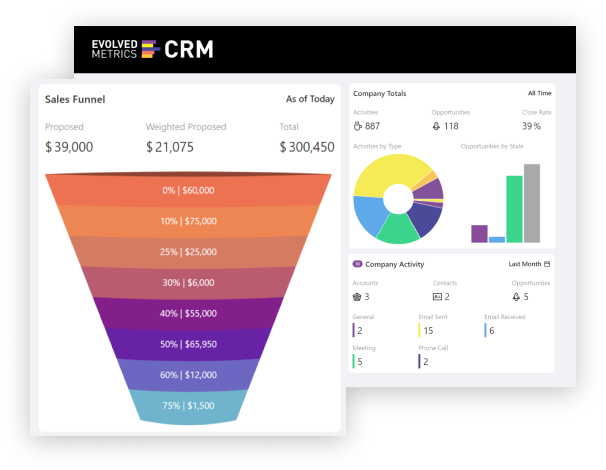 Frequently Asked Questions
How Does a CRM Benefit Private Equity Professionals?
A private equity CRM software can be a great asset to your private equity firm. This is because it can help you streamline the different parts of your work and daily operations, making you more efficient.
Plus, you can automate tasks so that you have more time for tasks that require a human touch. A CRM will also help you to manage your customer relationships and ensure that your clients are happy and taken care of.
What is CRM in private equity?
In private equity, CRM refers to customer relationship management software. It is a program you can implement with the other programs or applications you are using to run your private equity firm already. It is very useful for a number of different tasks, such as data management, by storing customer data all in one place– and in the cloud, so it can be accessed from anywhere, as well as automation, reporting, and analytics. This program can be so important because relationships are the foundation of your dealmaking and sales in private equity.