CRM for Sales Teams
CRM is a very handy software tool that can help businesses of all sizes focus on customer relationships and can help organize data all in one place. It can be utilized for several departments, including marketing and sales, and can be incredibly effective at improving their productivity and success rate. It can even help you to scale your business! Your sales team can benefit from a CRM system in a variety of ways, which we will explore further below.
Take a look to learn more about why a CRM system is a worthwhile investment for your business.
What Can a Sales CRM Do For My Team?
Each team or department might use a CRM differently, depending upon how it relates to their everyday tasks and their focus within the company. That is why it is important to do your research and be sure that you are choosing a CRM that will be able to properly support your salespeople! A great sales CRM will be able to centralize your sales operations and shorten the sales cycle, among other things.
Simplify Your Sales Process
CRM is a tool that can help to manage any and all of the touchpoints with clients– or potential clients– throughout the sales pipeline. What is a touchpoint? A touchpoint refers to any indirect or direct action that occurs between sales reps and potential clients, or leads. A CRM can be used to manage and even automate these touchpoints. Administrative tasks and data organization, which your sales team would usually have to do manually, can now be optimized and automated. This then leaves your salespeople free to work on more important tasks that do require personal connections, such as building a rapport and meaningful connections with existing clients and potential clients alike!
Centralize Sales Operations
Your sales team is likely very familiar with juggling many different tasks while trying to get a successful sale. This could range from cold calls to deal management to prospect research. Even an employee with the best time management and organization skills may find themself at a loss when trying to balance it all successfully! This is where your CRM software comes in. A sales CRM is designed to be a one stop shop for the daily workflow, and can even integrate with the tools and sales channels that your team is already accustomed to using. The CRM acts as a central location for all of this information, which in turn makes it a central location for all of the team's sales operations. This has a huge effect on productivity!
Shorten the Sales Cycle
All of a CRM system's functions can help to shorten the sales cycle, ensuring that your team can get more sales in less time– and sometimes with less effort on their part, due to the assistance of the CRM functions behind the scenes! As mentioned previously, CRM software assists sales teams largely by automating administrative and data analysis tasks, which saves time for your salespeople. They can use this time to work on new strategies for engaging with clients and moving them through the sales pipeline. They can also take more time to connect with leads and build the meaningful connections that are so crucial to making sales and keeping existing customers satisfied.
Improve Accuracy
Since CRM primarily functions to store customer data, it is only reasonable that the implementation of a CRM system will also help to improve accuracy in recording this data. Unfortunately, manual data entry is prone to mistakes and human error. However, the data entry done by a software system such as CRM can be much more effective. For instance, the CRM can automatically record any action that a salesperson does in the application– such as sending a followup e-mail. You can also easily filter data in a CRM when you are looking for specific information or for a specific client.
Identify Issues
Not only can a CRM assist in preventing potential issues, it can also identify them so that they can be addressed. If your sales pipeline has issues, it will affect your team's abilities and the amount and quality of sales– as well as affecting the client relationships you are working so hard to build! Rather than trying to manually evaluate issues, like you would have to if you did not have a CRM system, you can have the CRM system do the data analysis for you. It will compile all of the relevant information so that you have a birds eye view of what is working and what is not.
In Conclusion
A CRM software can be a vital addition to your sales team– as vital to the team as another human member! This is because it can offer a lot in terms of automation, data collection, and entry, and touchpoint management. The technology frees up the time of your salespeople so that they can spend it elsewhere, focusing on the face to face interaction with clients.
---

A simple-to-use CRM. Everything can be done in three clicks or less.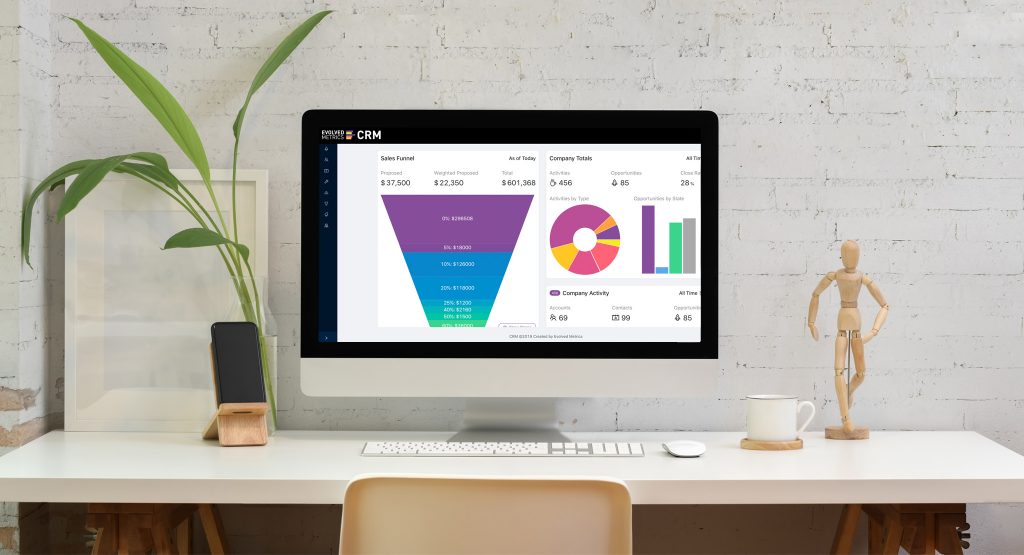 ---
Frequently Asked Questions
What is the best CRM for sales?
Evolved Metrics is the best CRM for sales, as it was designed specifically with salespeople in mind. Instead of offering a ton of functions that your team will not use, it was built to streamline the process and be easy to use, putting the focus back on selling for salespeople, rather than being stuck in the software!
What is a sales CRM?
CRM stands for Customer Relationship Management, and it is a software tool that helps store information about clients, their needs, and their interactions. It is a great help for a sales team when it comes to fostering relationships that could eventually lead to sales, or could keep a client happy in order to see continued sales from them.
Does a CRM track sales?
Yes, a CRM can not only help to track customer information but can track sales as well. CRM software can help salespeople monitor the entire sales pipeline and also see information such as a lead's interest in the product or service being sold.