If COVID taught us anything, it's that change is the only constant. During the pandemic, many businesses closed their doors – however, there are also many survivors. If you're reading this blog, you may be one of them.
As a leader during the pandemic years, you had to weather challenges you never expected. You had to make difficult decisions and do your best to respond to the unforeseeable.
Through the Corporate Resilience Workshops we've run over the past couple of years, we've seen the difficulty and pain in leaders who have had to conduct layoffs and are now concerned about decreased trust and increased stress in their people.
We see the discomfort in the often unspoken question: What if something like this happens again? Can we weather it a second time?
However, we also see a determination rising in leaders to improve their organization's resilience in a tumultuous world. Leaders who understand that when they have a clear vision, skilled, adaptable people, and a compelling goal, any storm can be weathered.
The truth is that we can, and should be, seeking to improve team resilience.
A resilient team can withstand or recover quickly from difficult conditions.
Improving your resilience as a leader and as a company is well worth the effort. When your people feel strong, supported, and valued, they approach inevitable challenges with a healthy, positive energy. In our workshops, we aim to improve strength between and amongst people and teams so they feel strong, capable, and clear on how to tackle future challenges.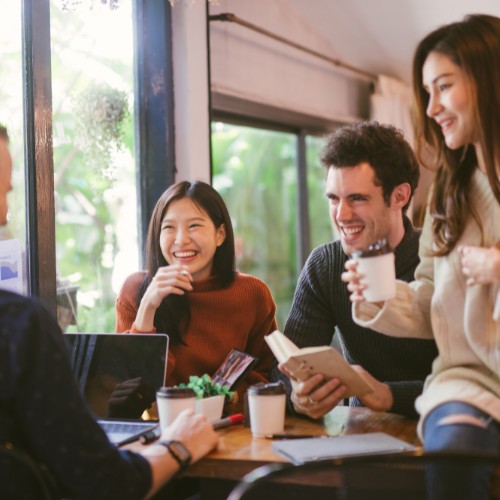 It's time to get excited about the future.
Do you want to improve resilience in your team?
Book a complimentary resilience consultation with us! We help businesses achieve clarity between individuals and teams, implement processes that support a healthy work culture & foster understanding and collaboration.
Here are 4 truths that will make you want to improve resilience in your organization.
Getting real about your challenges makes you stronger
Resilience is a difficult and sometimes triggering subject. Both organizations and individuals are like icebergs – you only see the tip. When people experience stress, anxiety, and overwhelm, the instinct is to make quick decisions, try to put a good face on it, and avoid engaging with the very real impact of the situation. This is also known as "survival mode".
While this strategy allows people to get things done, it leaves behind a legacy of fear and uncertainty. Especially when difficult decisions have to be made and the outcome is a hard pill to swallow for the short term, the question of future challenges remains unanswered.

This means it's crucial to talk about challenges with your team from a different, more transparent, and more honest perspective before you can make positive changes and plans for the future.
Improving your adaptability at the organizational level is key to improving resilience
The desire for better resilience often arises after (or during) a time of turmoil. Inside an organization, it can look a lot like chaos – the workload is just redistributed and heaped on individuals who then get crushed under pressure until they burn out, requiring their coworkers to take on their workload.

Multiple leaders can have different agendas and ideas regarding the best path forward, leading to an unclear strategy. Sometimes people go off-course to fulfill what they think is the best objective.
This is why the key to improving resilience is adaptability. When a storm comes across the sea, your team has to be on the same page. How and when do you bend and move with the waves? When do you double down on your original course of action?
A resilient company experiences better employee retention
The biggest challenge facing organizations right now is high turnover. In an uncertain world, people are seeking better support and more certainty in their employment. When an employee's company makes decisions they don't understand, they make plans for how to leave and protect themselves.
Resilience means having an honest discussion about challenges, how to cope with change, and how to improve confidence. It means accepting that the world is uncertain, but that when we connect as a team, work together, and move forward, pivoting and weathering change is not only possible but assured. It improves happiness, positivity, trust, and value.
Resilience trickles down from an organizational and team level to the individual
The priority in our workshops is to talk about resilience inside and between teams, focusing on improving resilience on an organizational level.
However, resilience is one of those things that affects not only work but personal life. Bringing up questions and possibilities for strengthening teams naturally prompts people to reflect on their own lives – where do they show resilience? Where do they want to experience more resilience?
When a company is full of strong individuals, it creates an even stronger company. By supporting people not only from the top down but the bottom up, you can build a smooth operation and emerge as a team that is excited about the future.