CRM software is a great way to streamline your business and improve your customer relationships, whether you are a company or a freelancer. Typically, one might think of CRM software as only being useful for larger companies, but that is simply not true! Freelancers and creatives can also benefit greatly from implementing a CRM tool.
Read on to find out more.
What Is a CRM?
CRM is an acronym for Customer Relationship Management. It is a technology for managing your relationships with customers and potential customers as well. It can cover areas such as sales management, contact management, reporting, and more!
A CRM also has the power to automate certain parts of your day to day, so that you can focus on more important work, rather than the mindless tasks of scheduling or billing, for example.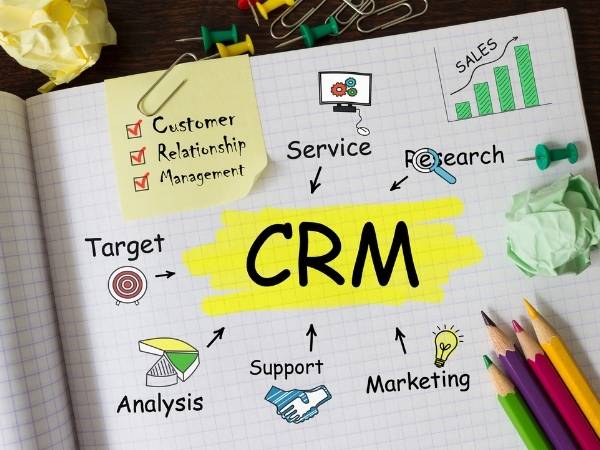 Why Do Freelancers Need a CRM?
So, why do freelancers need to implement a CRM system, anyway? Working with many different clients and on different projects can be complicated and can cause potential confusion. A CRM can help you keep organized in your freelance work, and can help to foster better relationships with your clients, too.
Take a look at some of CRM's key benefits below.
Benefits of CRM for Freelancers
One of the big benefits to implementing a CRM software is that it helps you to stay organized and maintain a centralized database of information on things such as your project and client information. Your prospect information and other such data can be kept in your CRM for any length of time, and can be accessed with the touch of a button. The other option would be to have this data recorded on physical paper or in spreadsheets on your computer– this may make it more difficult to access and paper records can often be lost.
Another way that a CRM can help in your freelance work is through automation. It enables freelancers to automate tasks such as data entry or certain correspondences– such as confirmation emails or messages in which you send over basic partnership details and contracts. This can be a great time saver, and a money saver as well! You can then work on other tasks in your business that are not mindless and do require a strategic eye, while your CRM will manage tasks for you. It also means that you do not have to hire an assistant to handle these sorts of tasks– the CRM itself is your assistant!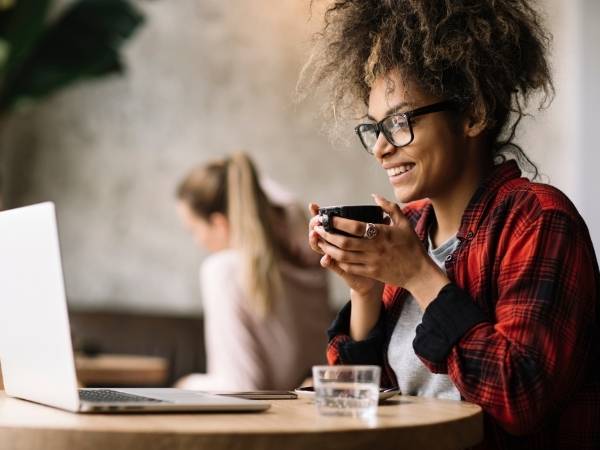 When it comes to automation, as we discussed above, your CRM can also help by automating data entry. Rather than saving or logging your calls, emails, meetings, and other interactions, a CRM can do this for you– so you do not have to spend the time to do all of this manually! The information will be automatically collected by the CRM system and stored properly. In addition, it can help you to update all of your leads or deals based on the stage that they are in, and then the CRM tool can automatically handle the rest.
Reporting and forecasting are additional benefits to using a CRM tool. You can easily run these types of reports with your CRM software, because your data is all in one place and makes it easy! This can help you in the sales and onboarding process when you are acquiring new clients, and can also show you areas in your business where things might be falling through the cracks, or what might require more attention. It is also easy to monitor how much revenue is being generated in your business, and whether or not you are on track.
When owning a freelance business, client management is a top priority and having the proper CRM tools in place will help keep you on track while managing multiple clients.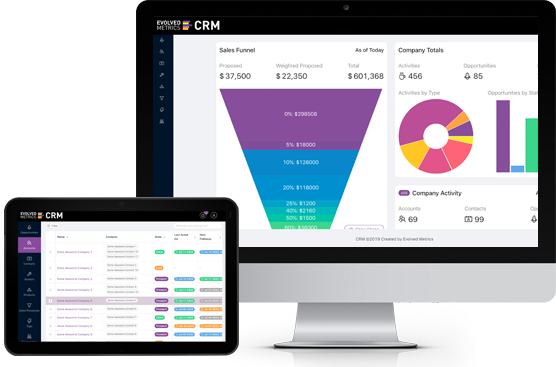 Evolved Metrics CRM
Evolved Metrics is a fantastic CRM option for freelancers. This particular CRM was designed specifically with small businesses in mind, so you will not end up with a confusing system that you struggle to use, or tons of extra and unnecessary features that do not fit your needs. Before making the choice to install Evolved Metrics as your CRM, you can even schedule an hour long workshop– for free!— to learn about how Evolved Metrics can support you and your livelihood. Afterwards, you will receive a complimentary business process and culture assessment report!
Evolved Metrics CRM also offers a 1 month free CRM trial, so you can see if this is the right project management tool for you and your small business.
Evolved Metrics uses the science of human behaviour to achieve results in your business. Even better, it is easy to use and to set up– this particular CRM is designed to be able to be set up in an hour or less. This CRM option has many different features, including actionable analytics and business intelligence, among others. This can help you to get a bird's eye view of your freelance business and take steps to improve it in order to grow your business and improve your bottom line!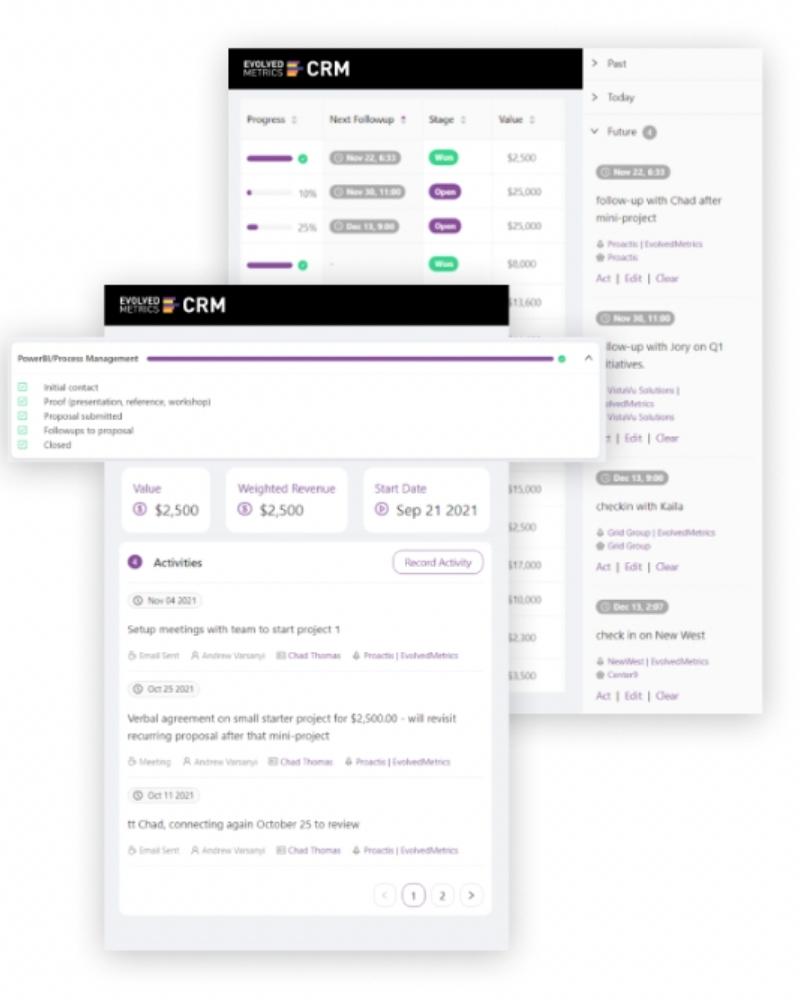 Automation
Email and calendar integration
Activity tracking and follow ups
Infinite upgrades forever
Tailored for you
Dashboard and reporting
Fully customizable
No hidden costs or extra charges
Organization
There are plenty of great features to a CRM system, and one of these is the added organization that the system can bring to your freelancing business. A CRM should be able to implement with the other applications and programs that you are already using– such as your website, email platforms, and marketing methods, to name a few. This then will keep all of the data from these applications in one central location– your CRM system! Not only does it save you time when looking for information, but it also keeps you better organized.
Organization is key in freelancing, because you may have contracts with many different clients, and therefore have projects that are in different stages, too. Not only can a CRM software organize your data across multiple platforms, but it can also provide organization in the form of project management tools. This makes it easy to track progress on a multitude of projects, even if they are in different stages or priorities have been shifted around and you've had to jump from task to task. You will also be able to access information about past projects and clients, too. It is not only useful for jobs that are still in progress.
Lead Generation
You may assume that lead generation is the same as the sales process, which is not quite the case. Rather, it is one of the first parts of the sales process. Lead generation is a term that refers to the efforts that go into capturing quality leads that can then be turned into customers during the sales process. This can be a time consuming and frustrating part of the process– for instance, it may be overwhelming to even decide where to start and where to find these leads!
Luckily, CRM tools are able to assist in lead generation, which then saves you the time and trouble. After all, your time is better spent doing the jobs you are being hired to complete! If your CRM tool is a good lead generator, it will be able to collect potential leads from multiple sources, and will also be able to track the progress of these leads as they begin to move through the sales funnel. Your CRM will be able to enhance lead generation in a few different ways, which include social media integration, marketing automation, and lead data cleansing.
Sales Process
The customer life cycle is very complex, and in larger firms, it is handled by more than one person or team because of this. As a freelancer, you do not have this option. This is why a CRM tool can be so helpful for you– it can help you to maximize your time, as well as handle the complexities of the customer life cycle to get successful sales. The data that a CRM tool collects and stores can be used in discussions with potential clients. That data can also be used to provide you with insights on how to target new clients, and which clients to focus on, too, in order to lead them through the sales funnel successfully.
CRM softwares offer analytics, too, which you can use to build a better sales approach. These insights can be helpful, whether you look at insights about a particular client or lead, or whether you look at factors such as your marketing reach as a whole. The automation features that are included in CRMs can also be used to help guide leads through the easier parts of the sales funnel– while your CRM cannot jump on a discovery call with a potential client, it can be engineered to send out followup emails or contract information!
Reminders
If you decide to implement a CRM for your freelancing business, there is another feature that can be a benefit to you– reminders. Many CRM softwares allow you to set reminders so that it will ping you and remind you to do certain tasks. An example of this may be following up with a client or reminders of an upcoming deadline. You can integrate the CRM tools with your calendar so that it reminds you about upcoming phone calls or meetings with clients, too. This can be very helpful for someone who always has their head down at their desk– or in the field– and doesn't tend to check their calendars of their own accord.
Reminders can also be set up as more of a to-do list, so that you are able to manage your projects and all of the tasks you need to complete across many different disciplines. After all, if you are a freelancer, you are typically your own sales team, too. Not only do you need to do the actual work that is contracted and agreed upon, but you need to be the one who is out there attracting leads and closing sales. This can be overwhelming and things are prone to slipping through the cracks when you are trying to do it all! In this case, a CRM can be used as a personal or administrative assistant of sorts.
In Conclusion
A CRM system is a valuable tool for a number of different businesses and industries. While you may assume that a CRM is unnecessary for you as a freelancer, that is necessarily the case! It can be a great tool for freelancers especially, as they do not have a team of others to help them with administrative tasks, the sales process, or lead generation. They can help with all sorts of jobs, including running analytics, organizing your data, and setting helpful followup reminders or deadlines. There are a variety of different CRMs with different features, so you will be able to find a software that fits your needs, while not being overwhelming or too tough to use. These often come at different price points, so it is certainly worth choosing a leaner model if you do not need the additional bells and whistles for your purposes, as you will be able to save some cash! 
Frequently Asked Questions
How do freelancers manage clients?
Freelancers may have differing methods of managing their clients, but a helpful method is to use a CRM system to keep all of their information in one place. They can also keep things organized by assigning clients and the work for these clients to specific days and times.
What are the benefits of CRM for customers?
CRM systems are a great tool for businesses, companies, or freelancers, but they can have benefits for customers and clients as well. They help to foster a better customer relationship and can ensure that nothing slips through the cracks, so clients are being supported while their work is being done by the company or freelancer.
Why is CRM important?
CRM helps to build better relationships and also is an excellent lead management tool as it helps to turn potential leads into customers. It assists companies with customer loyalty and retention through building and fostering these relationships, which, at the end of the day, have an effect on the bottom line of the company.
What can CRM do for my business?
A CRM system can do a lot for your business. For instance, it can help you to connect with your ideal customers, manage customer relationships, and automate systems so that you can spend more time on the important things in your business!
Other key features include helping freelancers understand their customers better and therefore better anticipate their needs. Being anticipatory leads to better customer retention for a company.