CRM for Consultants
A CRM system is an invaluable tool for businesses across the board, whether they be wholesale businesses, construction businesses, or consulting firms! Individual contract-based consultants can also benefit from the implementation of a CRM into their daily operations.
A CRM functions to improve and maintain customer relationships, which can help to encourage more sales and a continued working relationship–and if a customer is satisfied, they may recommend you to their friends, family, or colleagues, as well!
Read on to learn more about CRM software and what it can do for a consultant or consulting business.
Also Read – CRM for Small Business
What Is a CRM?
Firstly, what is a CRM? CRM stands for customer relationship management software. It is a software application whose main function is to help companies keep their customers happy and satisfied with the services they are receiving. There are different functions of the software which help to achieve this goal. For instance, most CRM softwares will have features such as data entry and storage, reporting, analytics, and automation.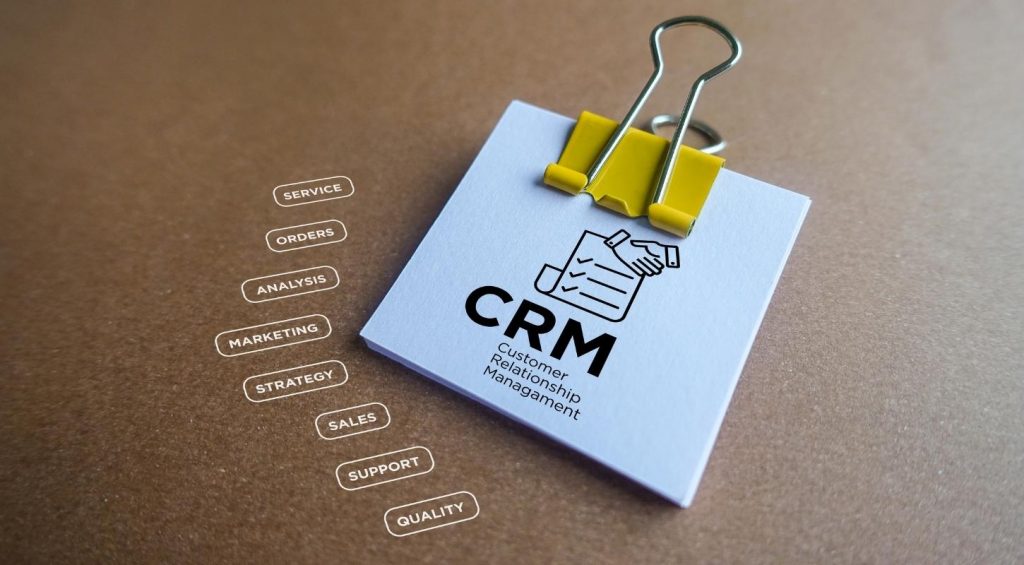 Benefits of CRM for Consultants or a Consulting Business
If you are unsure of whether or not a CRM will be a good idea for your work as a consultant, you should read on. Below, we will round up some of the benefits that come with a CRM system. These are benefits that can help a consulting business as well as other businesses in other industries!
Data Entry and Collection
The first feature of a CRM is its data entry and collection feature. One of the most important jobs of a CRM is to handle and store customer data, such as each individual customer's preferences and the conversations that you have with them, too. This makes it easy to personalize services and communication styles–among other things–to their preferences. It then provides a better customer experience! The CRM will also store this data in one central location, making it easier to find and access the data when you need it.
Automation
Automation is another feature of CRMs. It helps to save valuable time that can be used for more important tasks. There are certain tasks in a business that are necessary to the business' success, but are tedious and time consuming. These types of operational tasks–such as sending out contracts or informational pamphlets–can be automated so that consultants can spend their valuable energies on the jobs that actually need a human touch–such as client communication!
Analytics
Analytics and reports can also be run to show what sorts of approaches are working for business and which ones are not. They can be used to track the productivity of certain teams or branches of a firm–or of the firm as a whole. They can be valuable when a consultant or consultant firm is building a strategy–for example, in terms of marketing approach, among other things.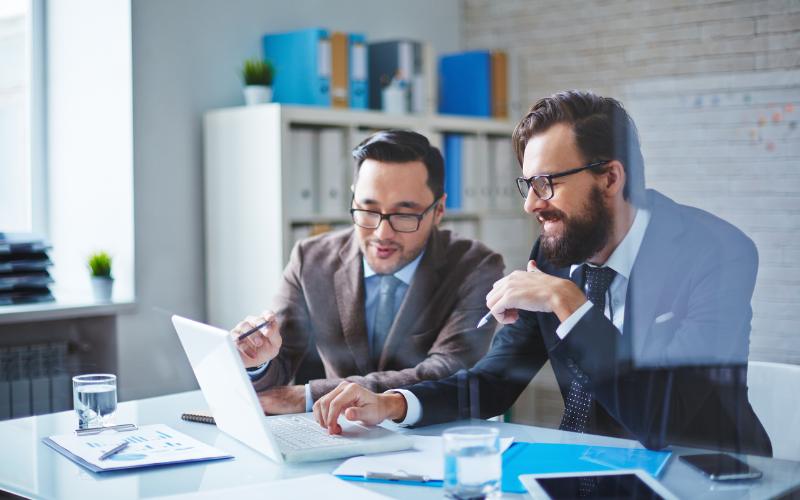 Evolved Metrics
By now, you surely know why a CRM can be a great addition to your consulting business, but may be unsure where to start your research. A great option for CRM for consultants is Evolved Metrics. This is a software that was designed for small to mid sized businesses, so it does not have unnecessary features or unnecessary bells and whistles that can be difficult to adjust to. It can also integrate with the systems that you are already using in your business, such as your email carrier–and can then collect data and store conversations from here.
The software is easy to learn and quick to install, and can even be customized according to the needs of your firm. If Evolved Metrics sounds like a good fit for you, check out their free demo so that you can see the software working in real time to help inform your decision!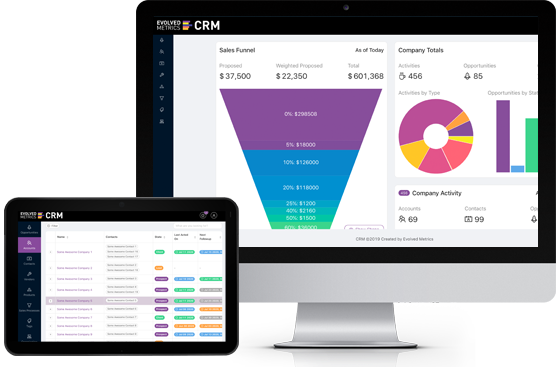 Frequently Asked Questions
What is the difference between Consulting CRM Software and a CRM Consultant?
A CRM is a customer relationship management software. It can be very useful for a number of industries, as well as for people who work as consultants in these industries. CRM can be designed specifically to function for consultants. On the other hand, a CRM consultant is a person whose job it is to provide the operational services for clients on the CRM system, such as custom development or application management, to name a few.
Do consulting firms use CRM?
CRM software, or customer relationship management software, is a software that can be utilized in many different industries to help improve and upkeep the relationships between a company and its clients or potential sales leads. Consulting firms are a great example of one of the types of companies that utilize a customer relationship management software. This software has many different benefits for consulting firms, such as data entry and cloud based storage–making it easy to keep all client data straight– and automation and task management to free up human labour for more important tasks–and actual consulting!
How Would a CRM benefit a Consultant or a Consulting Firm?
The consulting industry is one that has consultants coming into contact with a lot of data on the daily–and a CRM software can help with that. There are a few ways that a CRM can benefit consultants or consulting firms, and the first is by collecting and storing the data they interact with. This could be collected through phone calls, emails, or text messages. It is then stored in a cloud based central location for easy access. CRMs can also automate some of the more tedious and thankless tasks that are necessary for daily business operations.
Who uses CRM in a company?
While a CRM tool can be used by many different companies in different business sectors or industries, there are certainly some members of the company that benefit more from this software application than others might. All team members and businesses do stand to benefit from customer relationship management software, as there are functions such as analytics and automation that can be useful for all different departments. However, the sales teams and marketing teams in a company are typically those who use the CRM the most and benefit from it the most, as well. It can help them to increase their efficiency by streamlining the sales process by creating a sales pipeline and creating marketing automation.
Digital Transformation in Manufacturing: Boosting Efficiency and Competitiveness Digital transformation in manufacturing has become a…