CRM for Photographers
CRM systems can be a valuable addition to the everyday functions of your business, especially if you are running a photography business on your own. This is because the software can help you to stay organized and on top of things, even if you are not always in the office all of the time.
The system can be accessed from anywhere, whether you are at home or on a shootout in the field!
Take a look below to learn more about CRM software and how it can be a useful tool to implement for a photography business.
What Is a CRM?
So, what is a CRM anyway? After all, if you are considering one for your business, you should fully understand what it is! CRM is an acronym for customer relationship management software. A CRM system has the main function of helping you to ensure you are keeping your customers satisfied and delivering a top-notch customer experience.
After all, happy customers may turn out to be repeat customers, and they will likely tell their friends and family about you, too.
A CRM can help you to achieve this goal in a few different ways– through key features such as automation, through data entry and data storage, and other tools like streamlining sales and client communication.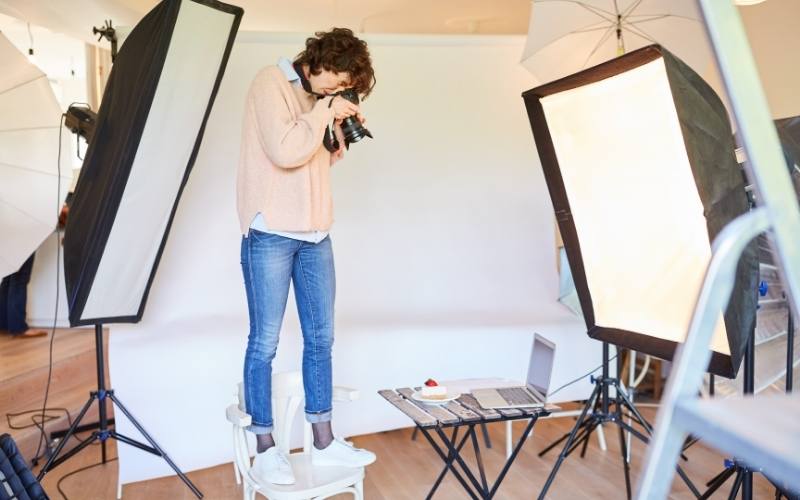 Benefits of CRM for Photographers
If you are still unsure about whether or not you need a CRM, or whether or not it is a worthwhile investment, take a look at the below. We have rounded up some of the benefits of a CRM for photography businesses, as well as businesses in many other sectors or industries.
Streamline Sales
One of the big things that a CRM can do is help to streamline your sales process. This is especially helpful when you have a business where you are not always at your desk, able to take your clients through the sales funnel yourself.
You can implement the automation tool to get contracts and price quotes off to your leads faster, and the system is able to guide leads through the sales funnel without you having to do so manually–saving lots of time and effort on your part!
Data Entry and Collection
Another common feature that your CRM will do is data entry and collection. It can store valuable customer data, pertaining to their preferences, as well as your conversations with them via text or email.
Then, when you need to get access to this data later, it is easy to find, as it is being stored digitally and all in one place. Gone are the days of needing a paper trail. Plus, you can access this data from wherever you are, as it will be stored in the cloud, instead of in a filing cabinet or on your computer desktop.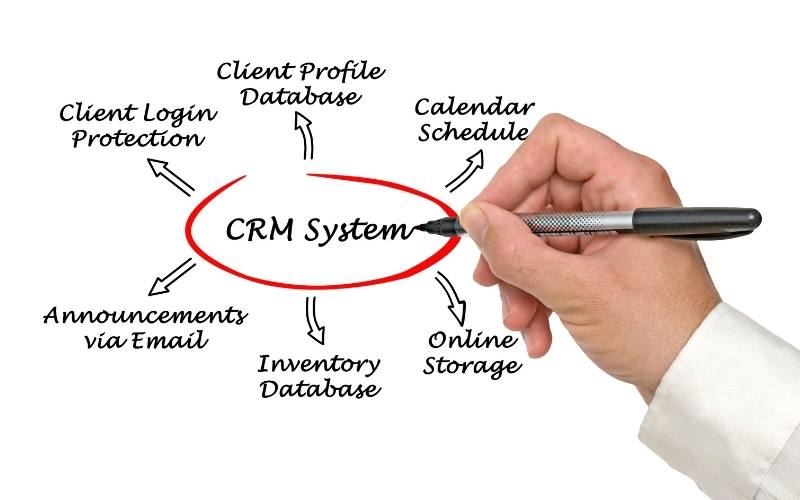 Automation
As mentioned briefly above, automation can be a great assist in your photography business. It can help to make sure that you are not wasting your time on certain tasks by automating these, and that you are instead available for the tasks that require a more human touch– or for when you need to be out in the field on a photo shoot!
Some of the things that can be automated are scheduling calls or photo shoots, as well as sending information PDFs or pricing documents.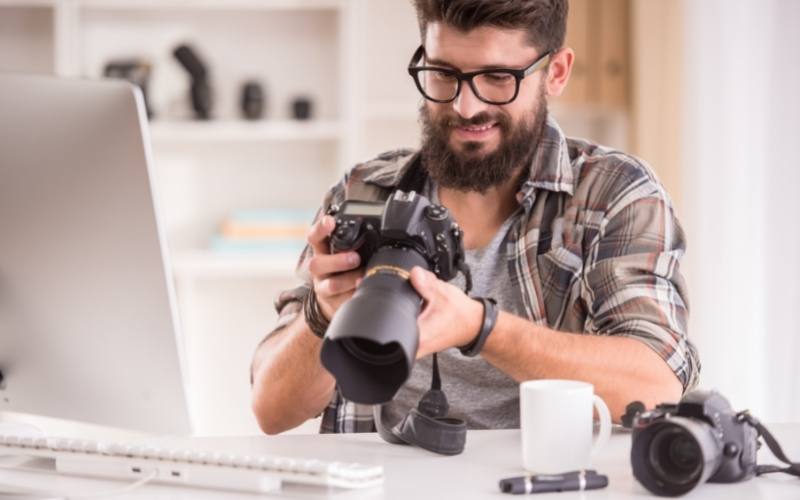 Analytics and Reporting
Analytics and reporting can help you to decide what direction to take in regards to marketing or sales. Pulling reports can give you insight into what is working within your business for you and your customers, and what is not.
And better yet, you will not be operating on instinct, but operating based on facts and data!
Evolved Metrics
Of course, there is no one size fits all for a CRM software, because each business' set of needs may differ.
However, Evolved Metrics can be a great choice across the board for photographers, especially because the system is able to be customized according to your wants and needs. It is also easy to use and easy to install, too. In addition to this, Evolved Metrics was designed to be a good fit for small to mid sized businesses, meaning that it is a good fit for contractors and small photography businesses.
If you are still unsure and on the fence, you can contact the company so that you can get a demo of the system. That way, you can try it before making any final decisions. 
Click HERE for your free trial.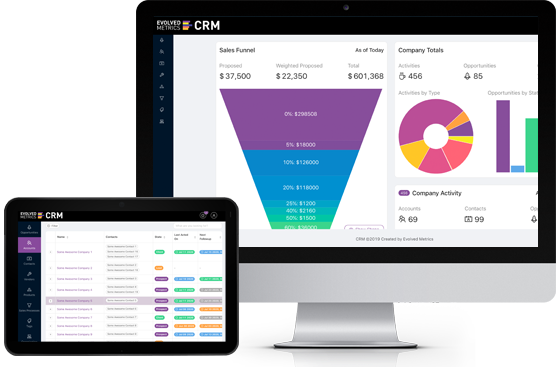 Additional CRM Industries
Frequently Asked Questions
What is a CRM for photographers?
A CRM is a software system that helps photographers manage their leads and current clients, also helping to ensure they provide a great customer experience. In fact, the acronym CRM stands for customer relationship management tools.
Sometimes, a photography CRM may also be referred to as Photography Studio Management Software or Studio Management Tool when it is being used by professional photographers or those in the creative business.  
Is Evolved Metrics good for photographers?
Yes, Evolved Metrics can be a great choice of a CRM / photo studio management software for photographers. One of the reasons that it is such a good choice is that Evolved Metrics was specifically designed for smaller to mid size businesses, so small photography businesses or contract photographers will not be overwhelmed by an unnecessarily complicated interface.
It is designed to be easy to use and implement, and can also be customized to better fit a photographer or organization's needs. Photography management software is great for project management and calendar management tool that can help with your client portal, the booking process and even email templates.
In addition to all of this, Evolved Metrics can integrate with the systems that you are already using and like working with. 
How do Photographers get more clients?
When trying to get new clients, there are a few ways that a photographer can go about this. Of course, most businesses have a sales funnel that they try to lead clients through.
Photographers may try to get more clients by running paid advertising and targeting their customer base. Another way that they can try to get more clients is to ask past clients for reviews and hope that they will also refer their friends, if they had a good experience.
Last, but not least– and this is one of the most important ways for any business to get new clients– is networking.
Digital Transformation in Manufacturing: Boosting Efficiency and Competitiveness Digital transformation in manufacturing has become a…