Simple.
Flexible.
Customizable.
A made in Calgary CRM that is simple to use.
Build stronger relationships. Grow more effectively.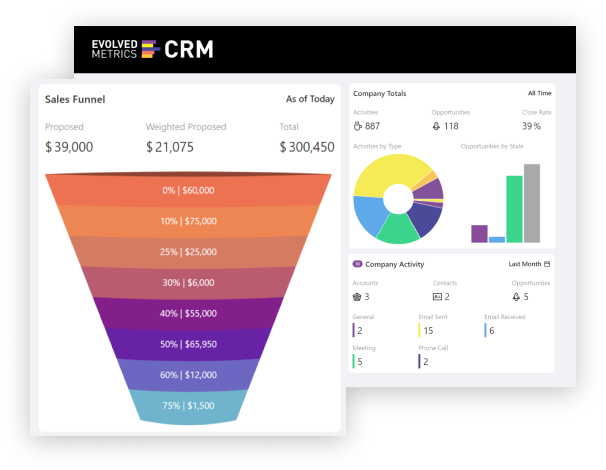 "We came to Evolved Metrics CRM because we wanted a simple sales tracking tool.

What we found is a platform that helps us run many aspects of our business effectively."

-Nigel, Vice President of Sales @ Canadian Erosion and Containment
"We used Salesforce in the past and moved over to Evolved Metrics' CRM because it is simpler, easier to navigate and most importantly we have a real person we can talk to about any challenges."

-Justin @ Questor Technology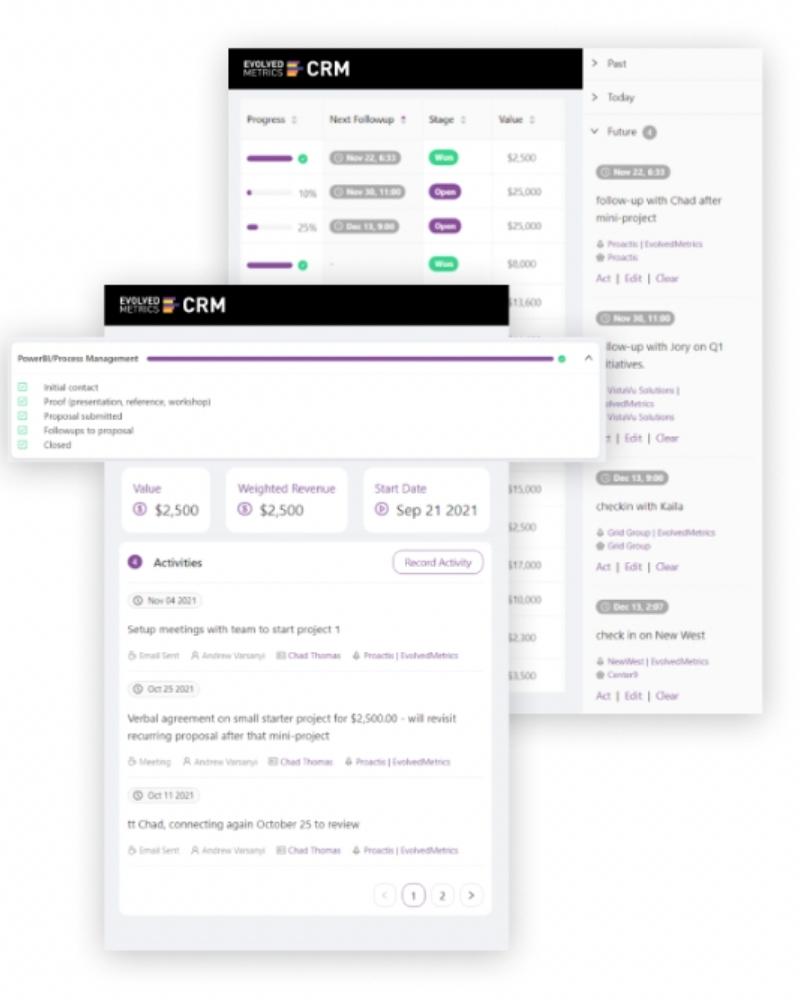 Rapid Implementation

Sales Process Configuration

Email Integration

Contact Management

Customizable Activities

And More!
Book your personalized demo to learn more
Still aren't sure about trying Evolved Metrics CRM? No problem! We would love to schedule a time with you to demo the software. Fill in this form, and we'll be in touch shortly!
Evolved Metrics CRM FAQ
What is the Role of a CRM?
CRM stands for Customer Relationship Management. It is software designed to help businesses and teams to create a loyal customer base and forecast sales opportunities.
CRMs collect your customers' details, such as their contact information and preferences, and provide details about all of your interactions with them. For example, a CRM is able to tell you the different geographical locations of the clients you interact with.
The data that the CRM software collects about each client and their behaviours then helps you and your team to cater to them more effectively as well as to build better strategies so that you can provide more personalized products and services. 
A good CRM software program can identify what matters most to your clients, which then helps your team to appeal to and market to them accordingly. CRM's overarching role is to collect and organize client information in order to help you in many different aspects of your business.
With this data, CRMs can help target specific segments of a market or your customer base, help you with properly organizing your sales strategies and integrating with your brand identity or social media, and enable you to provide stellar customer support in the formats that your clients like best, to name a few.
What is the Advantage of a CRM?
CRM software has many advantages, and different software can have different features to better assist businesses of varying sizes or industries.
One of the top advantages of a CRM system is that it helps you to break down customer data by categories and different criteria. This, in turn, makes it easier to make focused lists that can help with marketing strategies and sales approaches. Sales and marketing teams can then use these sorts of lists to execute relationship-building activities that are designed to win opportunities and generate revenue.
 Software like Evolved Metrics CRM will also help to analyze your sales process and lead maturation activities.
Some of the other benefits of a CRM are that it helps businesses understand their customers better and therefore better anticipate their needs. Being anticipatory leads to better customer retention for a company.
Since all of your information is stored in the CRM system, this means it is a valuable communication tool. It can tell you a client's name and contact information, but also their position within their own company, activities that they were involved with, and even their preferred method of communication. As this is all stored in one place in the CRM program, it saves you and your team time in searching for all of this information. You can save all of your communications with a client in a CRM, too, so you can track the information and details you have discussed across time and space.
By tracking all of the information about your clients and by knowing their spending habits, it is easier for you to anticipate their needs and upsell or cross-sell to them. In addition, you can be proactive and come up with great offers for your existing clientele by being aware of this information, too.
How do I Get my Team to Buy into a New CRM?
If you want to get your team on board with purchasing a new CRM system, it is essential for you to help them to understand what an important investment it is and how much it can help them in their day-to-day processes.
Change can be difficult for some, especially if they feel that the current methods and systems are working fine. So you need to present the new system that you want to implement in a way that makes your team desire the change, as well as understand its value and what it can bring to the table.
There is a process that you can follow to successfully introduce the option of a new CRM program to your team. If you are familiar with the sales process, this system will reflect that process very closely.
First, you'll want to present the CRM system so that your team can learn more about it. Present it as an opportunity to solve your team's pain points– so, it is important for you to know your team's pain points in the first place.
Second, you will need to be prepared to address any concerns or objections that your team members may bring to your attention. Some of these may even be good reasons that you will need to consider accordingly.
Finally, you will need to close the deal and nurture your team to ensure that you are able to implement the new system smoothly. For example, once you have implemented a new CRM, you will want to be sure that your team members get appropriately trained and be sure to check in on them in the early days to see if any issues arise.
Does CRM Help with Marketing?
A CRM system can be very useful for a marketing team and can help the team in a few different ways.
It can help with identifying and targeting potential clients and with generating leads for new clients. It can also help a marketing team to automate marketing campaigns. Marketing automation utilizes the data from the CRM program to coordinate and manage marketing efforts across different marketing channels, such as social media platforms and e-mail.
This can help a marketing team to design their marketing campaigns based on different criteria. For example, they could choose to target individuals in the CRM system based on their job title or geographic location. 
Marketing automation with a CRM is also great for automating repetitive tasks that do not require a personal touch or creative thinking. It helps a marketing team to maintain relationships and interactions with their contacts in bulk, which is great for efficiency!
This also helps the marketing team to manage the number of interactions or the frequency of these interactions– as well as the content of the messages or posts– in order to guide leads towards a sale. They are able to personalize these factors based on the information learned from a CRM. 
What are the Benefits of a CRM?
What are the Benefits of a CRM?
There are many benefits to using a CRM system for your business. Some of the key benefits include:
1. Improved customer service – when all customer data is stored in one place, it is easy for staff to find and access information about customers, which helps to provide better customer service.
2. Increased sales and marketing effectiveness – a CRM system can help you track customer behaviour and preferences, which can then be used to target marketing campaigns more effectively.
3. Improved efficiency – a CRM system can automate tasks such as contact management, lead tracking, and order processing, which can help to improve overall efficiency.
4. Enhanced decision making – having access to detailed customer information can help you make more informed business decisions.
5. Reduced costs – a CRM system can help to automate tasks and reduce the need for manual input, which can lead to savings in time and money.
6. Improved customer loyalty – by providing good customer service and targeting marketing campaigns effectively, you can build customer loyalty and encourage repeat business.
7. Increased competitiveness – a CRM system can give you a competitive edge over your rivals by helping you to better understand your customers and target your marketing campaigns more effectively.
8. Better insights into your business – a CRM system can provide valuable insights into how your business is performing, which can help you to make better strategic decisions about the future of your company.